It is difficult to do photographic justice to these two Giants!

If you like Wellingtonia, take a trip deep into the New Forest to visit them - they can be found on the Tall Trees Trail Rhinefield. The pair are reckoned by the forestry commission to be the tallest trees in the forest - of this there can be little doubt. They are huge. It is difficult to truly appreciate their height from the photograph, but with the full height of the tree in the picture, a person stood next to one would scarcely be noticed - and would definitely not be recognised.

They were planted around 1860, and have survived to this time relatively unscathed. They have no signs of lightning or wind damage, it is probable that being in a forest has protected them from the elements to some degree.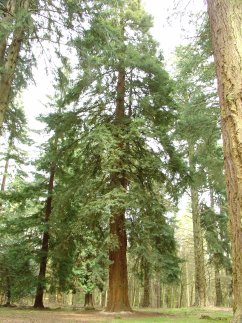 Coast Redwood April 2005

There is also an example of Coast Redwood (Sequoia sempervirens) a few moments walk away. It is interesting to compare this with the Giant Redwood (Sequoiadendron giganteum) - it is quite big (5 metres in girth), but it is too crowded to be able to appreciate its height. Further along the Rhinefield Road there is an area of mixed conifers where the ground is covered in Coast Redwood saplings of 10cm or so high, seeded from the larger examples nearby.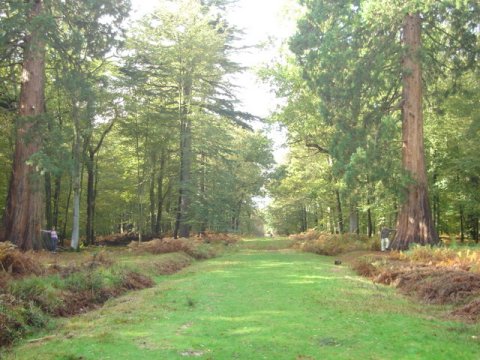 Giant Redwood October 2010

Thanks to Luke for providing the photographs (above and below) of his trip to the New Forest. These pictures all include people standing next to the trees as a comparison for size but you really have to visit them yourself to appreciate how very big they are. As mentioned above, in pictures showing the full height of the trees, it is difficult to spot the people next to the them (the bottom left picture).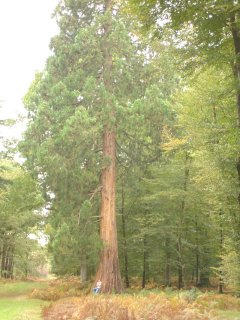 Radek sent the photographs below of two more Giant Sequoia on Rhinefield Road. He says "I did not have any tool to measure them but I would estimate number 1 to be 30 m - 35 m and number 2 to be 40 m – 45 m."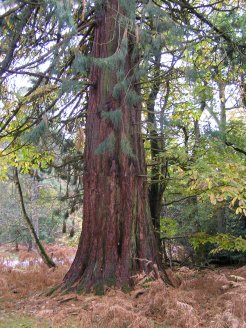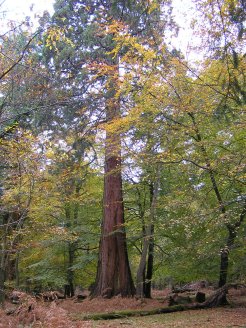 Giant Redwood November 2008

Thanks Radek, unfortunately I must have missed them when I was there some years ago, I obviously spent too long admiring the others!